Maureen (LYNN) Collins ADCRG, TCRG, Owner/Director (All Locations)
Maureen is a certified Irish Dance adjudicator (ADCRG) & instructor (TCRG) with An Chomhdhail in Ireland and a founding member of the USA Irish Dance Alliance. She has earned countless titles and accolades in the world of Irish dancing. As a former Riverdance performer, Maureen had the opportunity to dance for the Kennedy family at the Kennedy Arts Center & in front of standing room only audiences at the Broadway Gershwin Theater in Manhattan. Winning several regional & local championships, one of Maureen's greatest personal achievements was winning the North American Irish dancing competition two years in a row. However, her greatest achievements now is watching her students work hard, perform his or her best & help them achieve their own Irish dancing goals. It is her energy and that keeps the LYNN & LOGQ Academy moving forward in the world of Irish step dancing.
ADCRG – Certified Irish Dance Adjudicator
TCRG – Certified Irish dance instructor
USA IDA – Treasurer
NAIDP – Executive Director of the National Alliance of Irish Dance Professionals
Performed with the NY Broadway & the Lee Company Show Riverdance
Two-time 1st place finisher – North American Irish Dance Championships
Two-time 1st place finisher Mid Atlantic & Southern Regional Championships
Placed in the World Irish Dancing Championships in Ireland
National Foundation for the Advancement of Arts Financial Scholarship
Produced Dancers who have placed top 3 in the All Irelands, Worlds, British Nationals, Great Britain's, as well as dancers win the All Scotland's, North American Championships & Regional Oireachtas Championships.
Directed a dance drama that placed 5th at the World Championships.
Graduate Degree: MBA Iona Hagen School of Business
College Degree: BS in Accounting Villanova University
Patrick Quinlivan, TCRG (Sleepy Hollow, Pearl River, NY Locations)
Originally from New York City, but growing up in Charlotte, North Carolina, Patrick Quinlivan began his Irish dance career at the age of 6 years old and danced competitively for over 15 years. In January of 2012, Patrick received his TCRG and is now a full-time teacher with LYNN Academy. Over the course of his competitive career, Patrick has medaled at the North American Nationals, All Irelands Championships, and World Dancing championships, the most prestigious awards being 4th at the Worlds in 2005 and 3rd at the Nationals in 2010. Additionally, Patrick is an 8-time Southern Regional champion and has been the team captain on several winning ceili teams. Currently, Patrick serves on the USA IDA executive branch board as the assistant treasurer. In his life outside of dance, Patrick obtained his PhD in chemistry from Columbia University and works full-time as a Research Scientist for BASF. Patrick's love and passion for Irish Dance can be seen every time he steps into the dance studio and enjoys nothing more than to share his talents with the next generation of LYNN dancers.
Mary LYNN Collins-Callanan, Associate (New Rochelle, NY Locations)
I have been involved in Irish dance for over 20 years. In my younger years I was a Regional and National Champion and a World Champion recaller. I left Irish dance and pursued my ballet career which included performances with the Pennsylvania Ballet and New York City Ballet companies; working with such prestigious artists as Peter Martins, Heather Watts and Sean Lavery.
Following my retirement from ballet my sister Maureen Collins ADCRG asked me to join her in establishing the LYNN ACADEMY of Irish step dance. I have enjoyed being an assistant coach and teacher to our dancers and use my ballet and Irish experience to help dancers enjoy the Irish culture and perfect their dance.
My husband and I live in Westchester where we have 4 children who currently take Irish with their "Auntie Moe" and their Mom. We both believe that Irish provides the discipline, courage and grace that is needed to be successful in life. Whether are children are world champions or grade level dancers, we know this sport will provide a solid foundation as they grow into adulthood.
Kate Bortz, TCRG (Hillsborough, NJ Location)
Kate Bortz began dancing at 5 years old under the direction of Maureen O'Grady.  In her nearly two decades of training, she had reached Open Championship, competed in the Mid-Atlantic Regional Oireachtas over 10 times, placed in the top 20 at the National Championships and qualified for the World Championships three times. Additionally, Kate received a pre-professional training in ballet and modern dance at the Lehigh Valley Charter High School for the Arts, where she excelled in ballet and was selected for the Joffrey Ballet's Trainee Program and the Bolshoi Ballet's exchange program in after only 4 years of training. Kate is extremely excited to be teaching with Lynn and can't wait to help the dancers achieve their goals!
Jacque Clark, TCRG (Visiting NJ Location)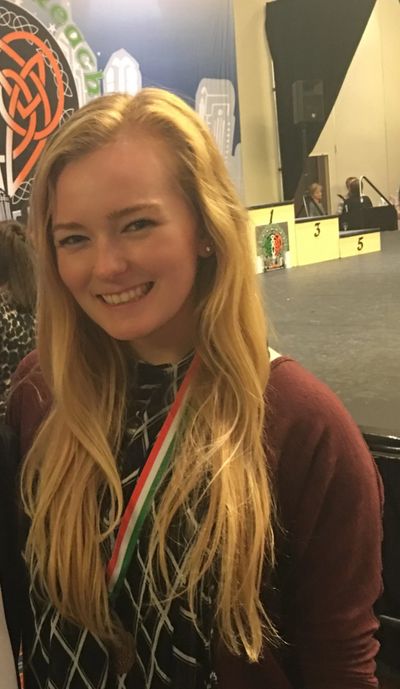 After falling in love with Irish Dance at a St. Patrick's Day show, Jacque started dancing at 8 years old with the Davis Academy of Irish Dance in New Jersey. Jacque danced competitively for 14 years, reaching the highest competitive level of Open Championship. She competed at the Mid-Atlantic Oireachtas, Southern Oireachtas, and the North American Championships, and recalled in both team and solo competitions.
From an early age, Jacque found a passion in teaching, and started working as a teaching assistant for Maureen Collins at age 16. After retiring from competition in 2016, she earned her TCRG certification in 2017 at the age of 22.  Jacque currently teaches for two LOGQ branches – O'Grady-Quinlan South in Maryland and the Lynn Academy in New Jersey. She graduated with honors from the University of Maryland, Baltimore County in 2016 with a degree in History and minor in Political Science. She works full time in Washington, DC.
Laura O'Hanlon, Associate (Stamford, CT Location)
Hi everyone, my name is Laura O'Hanlon and I have been teaching with Lynn for the last 2 years, but my journey with the school began at 4 1/2 when I joined the school and began my dancing career. I love teaching and watching each dancer grow and progress while developing new skills along the way. Can't wait to see the returning students and meet the dancers joining us for the first time this year!
Kiera Dorrian, Teaching Assistant (Sleepy Hollow, NY Location)
Born and raised in Yonkers, New York, Kiera Dorrian began dancing at the age of 5 and has been competing for 9 years. Kiera enjoys participating in both ceilis and solos. While competing in teams, Kiera has placed 4th at the World Championships, earning a world medal, 1st at the North American National Championships and 1st at the Mid Atlantic Region Oireachtas. In solos Kiera has medaled at the North American National Championships and at the Oireachtas has world qualified for the 2020 World Championships in Dublin. Entering her senior year in high school, Kiera is looking forward to helping the next generation of Irish dancers achieve their goals and have fun doing so!
Mary Kate Callanan, Teaching Assistant (Sleepy Hollow, NY Location)
Hi, my name is Mary Kate Callanan. I am 14 years old and I have been dancing since I was 4. I am currently in open championship. In this upcoming year I will help to teach the younger students. I enjoy competing in my solo rounds as well as participating in ceili dances.  Some of my most proudest achievements were placing 4th in the Nation and receiving a medal at the World Championships. I am looking forward to getting back to class and taking in part in competitions.
Kiera McDonagh, Teaching Assistant (Sleepy Hollow, NY Location)
Hi my name is Kiera McDonagh. I am 12 years old and I attend Eastchester Middle School as a 7th grader this year. I have been dancing for around 7 years now. I compete in open championship. I have been helping Patrick to teach with the Tarrytown students for two years and I love it! It is so much fun to help other dancers achieve their goals. My favorite dance memories would be traveling to the McGahan Lees feis in England with dance friends. Another awesome dance memory is placing 3rd at the Mid-Atlantic Oireachtas in 2019. I am so excited to start the new dance year with everyone from Lynn Academy!
Julia Denys, Teaching Assistant (Hillsborough, NJ Location)
Hi. I am Julia Denys.  This year I will be a senior at Hillsborough High School. I started dancing when I was 6 years old, and this will be my 12th year dancing. I was Ms. Maureen's first beginner at the Hillsborough location, and I am so excited that I will be continuing to help teach all the dancers at Lynn. My two favorite moments in my dancing career were when I received world medals in both the solo and team competition at the World Championships. I hope that I can help each dancer reach their goals and be apart of their irish dance journey.
Julia Puluka, Teaching Assistant (Hillsborough, NJ Location)
Hi my name is Julia Puluka. I am 16 years old and will be attending Somerville High School as a junior this year. I started dancing 8 years ago. I am currently in open championship. I started to help teach last year and I love working with all the dancers. Some of my favorite Irish dance memories are traveling overseas with some of my closest friends and recalling at the 2019 world championships for the first time. Can't wait for an amazing year.
Eileen Rella, Teaching Assistant (Stamford, NJ Location)
Dr. Mary LYNN Collins, Honorary Enrollment Director
Our honorary enrollment director comes to the Lynn Academy of Irish Dance with over 40 years- experience within the Irish dancing community. Dr. Mary Lynn Collins, aka "Buggin" has directed two Irish dancing schools including the Patrick Butler Academy of Irish dance and the prestigious Kathleen O'Keefe school of Irish dance. She will facilitate all parent questions and concerns and explain the "ins and outs" of the Irish dance world. Mary is thrilled and honored to be named the enrollment director of the Lynn Academy of Irish dance and she looks forward to meeting and working with all of you!