Maureen (LYNN) Collins ADCRG, TCRG, Owner/Director (All Locations)
Maureen is a certified Irish Dance adjudicator (ADCRG) & instructor (TCRG) with An Coimisiun in Ireland. She is a member of the IDTANA (Irish Dance Teacher's Association of North America) and the New England, Mid Atlantic and Southern Region Associations.  She has earned countless titles and accolades in the world of Irish dancing. As a former Riverdance performer, Maureen had the opportunity to dance for the Kennedy family at the Kennedy Arts Center & in front of standing room only audiences at the Broadway Gershwin Theater in Manhattan. Winning several regional & local championships, one of Maureen's greatest personal achievements was winning the North American Irish dancing competition two years in a row. However, her greatest achievements now is watching her students work hard, perform his or her best & help them achieve their own Irish dancing goals. It is her energy and vision along side her co-director, Colleen and Maureen that keeps the LYNN & LOQC Academy moving forward in the world of Irish step dancing.
ADCRG – Certified Irish Dance Adjudicator
TCRG – Certified Irish dance instructor
IDTANA – Mid Atlantic Regional Board Member Corresponding Secretary (former Treasurer)
Performed with the NY Broadway & the Lee Company Show Riverdance
Two-time 1st place finisher – North American Irish Dance Championships
Two-time 1st place finisher Mid Atlantic & Southern Regional Championships
Placed in the World Irish Dancing Championships in Ireland
National Foundation for the Advancement of Arts Financial Scholarship
Produced Dancers who have placed top 3 in the All Irelands, Worlds, British Nationals, Great Britain's, as well as dancers win the All Scotland's, North American Championships & Regional Oireachtas Championships.
Directed a dance drama that placed 5th at the World Championships.
Graduate Degree: MBA Iona Hagen School of Business
College Degree: BS in Accounting Villanova University
Patrick Quinlivan, TCRG (NY/CT Location)
Patrick began dancing with Rince na h'Eireann (RNE) at the age of 6 years old and has competed with RNE over the course of the last 20 years. In January of 2012 Patrick received his TCRG and is now a full time teacher with LYNN in Tarrytown and Stamford. Over the course of his competitive career Patrick has medaled at the North American Nationals, All Irelands, and World Dancing championships, the most prestigious awards being 4th at the Worlds in 2005 and 3rd at the Nationals in 2010. He has also won the Southern Region Oireachtas eight times since 2002. Patrick currently lives in New York City and is working on obtaining his PHD in chemistry at Columbia University. Patrick's love and passion for Irish Dance can be seen every time he steps into the dance studio and enjoys nothing more than to share his talents with the next generation of LYNN dancers.
Mary LYNN Collins-Callanan (NY Location)
I have been involved in Irish dance for over 20 years. In my younger years I was a Regional and National Champion and a World Champion recaller. I left Irish dance and pursued my ballet career which included performances with the Pennsylvania Ballet and New York City Ballet companies; working with such prestigious artists as Peter Martins, Heather Watts and Sean Lavery.
Following my retirement from ballet my sister Maureen Collins ADCRG asked me to join her in establishing the LYNN ACADEMY of Irish step dance. I have enjoyed being an assistant coach and teacher to our dancers and use my ballet and Irish experience to help dancers enjoy the Irish culture and perfect their dance.
My husband and I live in Westchester where we have 4 children who currently take Irish with their "Auntie Moe" and their Mom. We both believe that Irish provides the discipline, courage and grace that is needed to be successful in life. Whether are children are world champions or grade level dancers, we know this sport will provide a solid foundation as they grow into adulthood.
Cody Kleppertknoop, TCRG (NJ Location)
Cody started dancing at the age of 8 with the Maureen O'Grady School of Irish Dance and also with the O'Grady-Quinlan Academy after the merger. He has excelled in competition: he is a two-time Regional Champion, and has also placed as high as 12th at the World Championships and 6th at the North American Championships, the two most distinguishing accomplishments of his dancing career.
Cody y passed his TCRG exam in December 2014. He is thrilled to be a part of LYNN & LOQC, and is excited to help the school grow.
Jacque Clark, TCRG and Business Manager (NJ Location)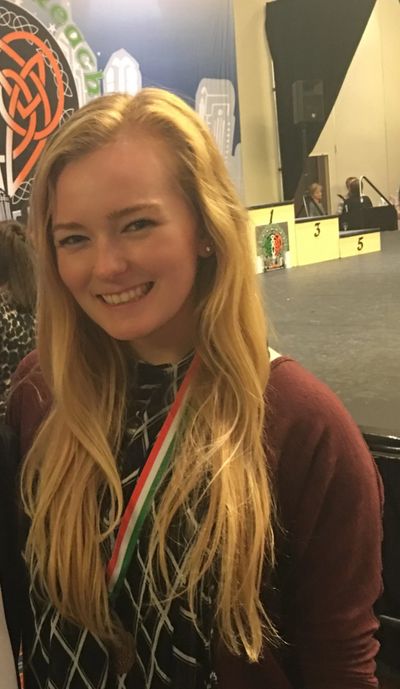 After falling in love with Irish Dance at a St. Patrick's Day show, Jacque started dancing at 8 years old with the Davis Academy of Irish Dance in New Jersey. Jacque danced competitively for 14 years, reaching the highest competitive level of Open Championship. She competed at the Mid-Atlantic Oireachtas, Southern Oireachtas, and the North American Championships, and recalled in both team and solo competitions.
From an early age, Jacque found a passion in teaching, and started working as a teaching assistant for Maureen Collins-Novaco at age 16. After retiring from competition in 2016, she earned her TCRG certification in 2017 at the age of 22.  Jacque currently teaches for two LOQC branches – O'Grady-Quinlan South in Maryland and the Lynn Academy in New Jersey. She graduated with honors from the University of Maryland, Baltimore County in 2016 with a degree in History and minor in Political Science. She works full time in Washington, DC for the U.S. House of Representatives.
Dr. Mary LYNN Collins, Enrollment Director
Our enrollment director comes to the Lynn Academy of Irish Dance with over 20 years experience within the Irish dancing community. Dr. Mary Lynn Collins has directed two Irish dancing schools including the Patrick Butler Academy of Irish dance and the prestigious Kathleen O'Keefe school of Irish dance. She will facilitate all parent questions and concerns and explain the "ins and outs" of the Irish dance world. All phone calls should be directed to her at 1-877-WIN-LYNN, and you can e-mail her with all your ideas and suggestions at lynnacademyusa@gmail.com Mary is thrilled and honored to be named the enrollment director of the Lynn Academy of Irish dance and she looks forward to meeting and working with all of you!